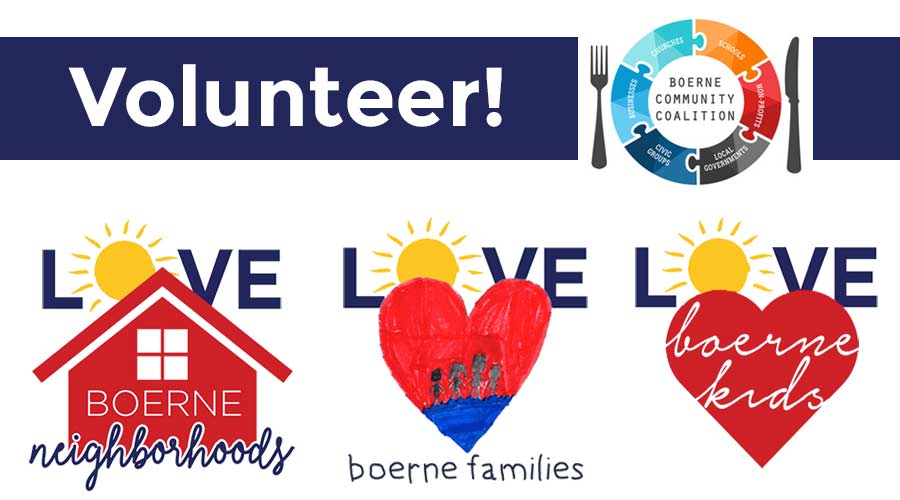 Boerne Community Coalition Opportunities to Serve:

Love Boerne Neighborhoods Workday
March 30th

The Love Boerne Neighborhoods Workday is scheduled for Saturday, March 30th. We are looking for a lot of volunteers to help. Using the Sign Up Genius link below, you can sign up for any task, according to your skill level and which neighborhood you would like to work in. Lance Folkerts and George Klein will be overseeing separate projects, Lance in Walnut Hills and George in either Walnut Hills or possibly Shady Rest. If you sign up for 'general work' on the Sign Up Genius form, please add a comment stating that you are with St. John, so that you can be assigned to one of St. John's projects.
Will you prepare a 'Pop-Up Dinner' to help the Boerne Community Coalition?
Volunteers are needed to bring food for 'Pop-Up' dinners for families at Head Start Parent Education Meetings. Love Boerne Families, a program of the Boerne Community Coalition, hosts a monthly dinner for preschoolers and their families that are attending the Head Start program. These dinners include literacy for the children and parent support programming for the adults. If you would like to get involved and help prepare a portion of the meal, please sign up using the button below.