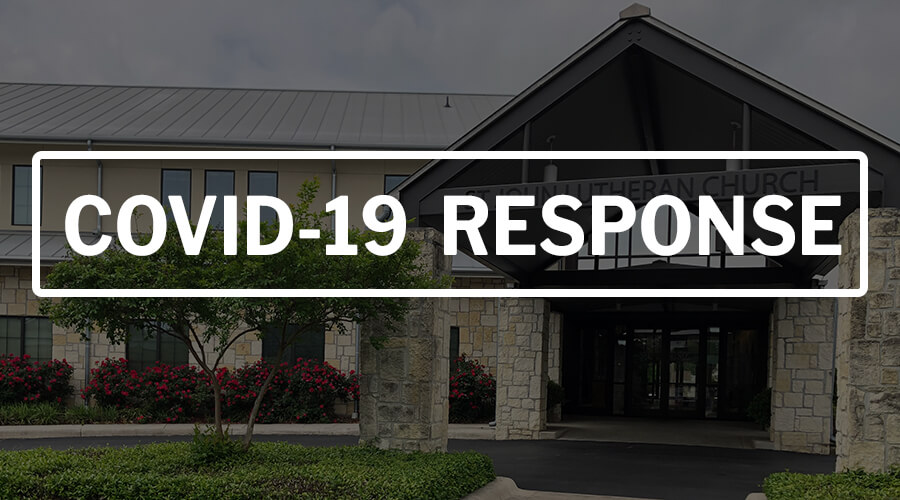 July 2, 2020
Dear St. John family,
In accordance with Governor Abbott's latest mandate, Kendall County now requires everyone to wear a mask when entering any business.
You will be required to wear a mask when entering St. John for any and all church activities – including Sunday services, memorials, etc. – effective immediately.
We appreciate your cooperation as we follow the guidelines given to us.
June 8, 2020
Great news, St. John family…the 8:00am Traditional service will resume THIS SUNDAY, June 14th!
In the past few weeks we have heard much feedback from many of our faithful members about reinstating the 8:00am Traditional service. Our concern for the safety of our members had kept us from bringing this service back too soon. And now, after careful consideration by St. John's leadership team, we have decided to resume the early service.
Please remember that there are temporary changes in effect that must be followed in order to keep us all safe and healthy:
We will maintain social distancing guidelines and people will be seated in every other pew.
There will be no bulletins or handouts.
Communion will be held on the first Sunday of each month, with the next Communion being served on July 5th.
We are so happy to have all of our Sunday services available to our faithful congregation. We look forward to seeing everyone on June 14th!
May 20, 2020
Dear St. John family,
St. John's Executive Council met on May 19, 2020 and discussed updates to the current Sunday plans of StJLC.  Here are the changes that have been made:
For those aged 65+: We are taking necessary and responsible precautions to make our church a safe and healthy environment.  We trust you to make a responsible decision for yourself about attending Sunday service in person.  The Open Texas guidelines state, "Individuals aged 65 and older should stay home as much as possible."
We will only offer Communion on the First Sunday of the month, beginning in June. This is a temporary change until we can recruit more volunteers
We will no longer plan to use the Family Life Center for overflow seating
Both parking lots and both sets of doors on either side of the building will be open and available for use.
Council has decided that it is best to hold off on reinstating Sunday School (both Adult and Children/Youth), nursery, and the 8:00 service at this time.  We'll revisit those topics again in July.
May 1, 2020
Dear St. John family,
We have made a thoughtful choice to reopen our church doors on May 10, 2020. A big part of who we are is being able to 'connect consistently'. With the newest guidelines given by Governor Abbott, we will again be able to enjoy fellowship with one another! This is exciting news!
On April 27, 2020, Governor Abbott outlined Phase 1 and Phase 2 of the re-opening of retail, restaurants, and churches. Phase 1 begins today, May 1, 2020, and focuses on protecting those aged 65 and older and those with pre-existing medical conditions. His words to that portion of the population: "Remain at home if at all possible." Phase 1 allows for gatherings of people equal to or less than 25% of normal building capacity. For St. John, 25% capacity is approximately 100 people.
St. John will begin meeting again for worship on May 10, 2020 with the restriction of 100 people being together during each service.
We will begin with having two services at the church facilities and the online service. Here is what our Sunday schedule will look like:
9:30am – Praise service in the Sanctuary
10:45am – Traditional Service in the Sanctuary with overflow seating in the Family Life Center. This service will also be livestreamed online.
There will be no childcare available at this time.
Phase 2 of the Governor's plan will be effective on May 18th if there are no spikes in illnesses at that point. This phase allows for 50% occupancy, which means 200 people allowed in the Sanctuary.
Our leadership team at St. John has carefully created a plan and a process for the successful and healthy reopening of our church. We will follow all physical distancing guidelines defined by the Governor, as well as maintain a clean, safe, environment.
For more information on what St. John is doing to keep you safe and very specific details regarding the reopening procedures we will follow in accordance with the Governor's "Open Texas" guidelines, please  click the button below:
Reopen FAQs
As of now, Sunday mornings will be for worship only. No Sunday School classes will meet. The church will be available during the week for small groups, such as Bible studies and committee meetings. As restrictions are lifted, the Council will review and revise our schedule.
We love you and look forward to seeing you again soon. For some, we will see you on May 10th. For those who choose to continue worshiping with us online, know you are in our thoughts and prayers and we will see you when the time is right. Stay safe and healthy.
MARCH 26, 2020
Dear St. John Family,
Today, March 26, we have learned that the city of Boerne, TX has extended the public health emergency declaration prohibiting gatherings until April 24, 2020. Therefore, St. John Lutheran Church will continue to meet exclusively online (via livestream) each Sunday at 10:45am through the end of April.  The church office will also remain closed during this time. God willing, we plan to resume church services and activities on May 1, 2020.
I am sure most of you are wondering what exactly this means for the Easter season. We can't possibly cancel Easter, right? It's one of the biggest celebrations on the church calendar. The good news is, we are not cancelling Easter – we just have to change the way we do things this year. The Easter service will be livestreamed online at 10:45am on Easter Sunday, April 12th. As we create a plan for the upcoming weeks, we encourage you to check our website often for updates: www.stjohnlutheran.com. We understand that communication is key during these uncertain times and will also provide updates via emails, phone calls, and social media. In an emergency, you can contact Pastor Waters at 614-202-9783 or Pastor Bergquist at 210-379-6340.
For many of us, the last few weeks have been unsettling and uncomfortable, to say the least. Nearly every aspect of our lives has been disrupted. As you wade through the coming days, weeks, and months, lift up your head and turn your eyes to the Lord. Your life is far more secure in the hands of the Lord, than in your fragile plans. Find your comfort in Him. Rest in Him. He will bring us through.
"Then they cried to the Lord in their trouble, and he saved them from their distress." – Psalms 107:19
We welcome you to join us online HERE each Sunday at 10:45am.
If you cannot watch the live service, it will be recorded and appear on St. John's YouTube channel on the Monday afternoon following the service.
Check for more updates on our website HERE.
MARCH 17, 2020
Dear St. John Family,
The St. John leadership team has been closely tracking developments related to COVID-19.  Yesterday, Kendall County declared a Public Health Emergency prohibiting gatherings of 50 or more people, and President Trump has urged Americans to avoid gathering in groups of 10 or more.  St. John Lutheran Church is suspending all in-person gatherings through the end of March.  All activities are canceled, effective immediately—worship services, Bible studies, meetings, etc. The church office will also be closed during this time. The church suspension will remain in effect through the end of March and may extend beyond that timeframe.  Already we have made the decision to cancel the Wild Game Dinner and Easter Eggstravaganza for this year.  We will continue to provide updates as the situation develops.
Even though we will not be able to gather together at St. John for worship services, that doesn't mean we won't be able to connect for worship. St. John will be LIVE-STREAMING the Sunday service at 10:45am each Sunday.  This is a great opportunity to gather in your home with your family and worship together as you watch online.  You will be able to give your offerings online or through the mail.
We welcome you to join us online HERE each Sunday at 10:45am. If you cannot watch the live service, it will be recorded and appear on St. John's YouTube channel on the Monday afternoon following the service.
As you have observed, this is a constantly changing situation with frequent updates.  We will continue to provide updates via email, on our website, and on social media. You can also find additional communication, links to pertinent information, resources for your family, as well as Bible verses to help you find strength and peace during this time on our website HERE. In an emergency, you can contact Pastor Waters at 614-202-9783 or Pastor Bergquist at 210-379-6340.
We firmly believe that we must not panic or overreact to the threat of this outbreak, but realize that we need to be part of the solution in helping to slow the spread of COVID-19. For many, the spread of this virus has caused fear and anxiety. We pray that you would sense God's peace in the midst of these difficult circumstances.  We also pray for all who are affected by this illness, as well as their caregivers and those who are working around the clock to minimize the impact of this virus.
We can trust God in this time of fear, but we must not put Him to the test.  Stay safe, take care of yourself, look out for one another, trust in the Lord.
"When I am afraid, I will trust in you. In God, whose word I praise. In God I trust; I will not be afraid." – Psalm 56
MARCH 14, 2020
Dear friends,
At St. John we are doing our best to address the concerns caused by Covid-19 and keep our church family safe as we worship.
As of now, all St. John worship services are going ahead as planned, as none of our gatherings are larger than the amount deemed safe by heath officials. However, we have made the decision to cancel the Sunday breakfasts that are served each week in the Family Life Center.  The same is true for the Wednesday Lenten meals. This will limit the amount of contact that could put the health of our members at risk.
In addition to these cancellations, we have also put other protective measures in place:
We have increased our already thorough cleaning procedures and are disinfecting all surfaces of our church campus with extra care and diligence.
We continue to encourage everyone to refrain from making direct physical contact as much as possible when greeting people,  (i.e.  refrain from handshakes and instead use words to greet each other).
Everyone is encouraged to follow good personal hygiene guidelines, including the regular washing of hands and the covering of the face when sneezing or coughing. We also have hand sanitizers available throughout the church.
We ask that anyone who is not feeling well stay home. Our 10:45am service is live-streamed and can be watched from the comfort of your home: https://www.stjohnlutheran.com/worship/watch-us-live/  If that time doesn't work, the recorded Sunday service can also be watched on our YouTube channel beginning the following day:  St. John YouTube Channel.
We don't want to foster panic and we are confident the risk is low in our area. However, it is important we do our part to ensure our community stays safe and is cared for during this outbreak.
Please join us in praying that God will bring about healing and guide health authorities and governments around the world to a solution as they lead us. Let us realize that this situation presents us the opportunity to show Christ-like love and concern for others.
2 Timothy 1:7 "for God gave us a spirit not of fear but of power and love and self-control."
Our stream will go live at 10:45 am.
The sermon will be posted to our website HERE and to our YouTube page on the Monday afternoon following the service.
To contribute to the mission and ministries of St. John through tithes and offerings, you can give online here or mail a check to St. John (315 Rosewood Avenue, Boerne TX 78006).
BIBLE VERSES TO FIND PEACE:
Feeling overwhelmed with the news of the COVID-19 outbreak? Perhaps you know a friend, family member or work colleague who needs support and reassurance? Find peace in the Word with these encouraging Bible quotes to uplift and inspire faith during these difficult times.
You can download a .pdf file of these verses using the button below.
Deuteronomy 31:8
Joshua 1:9
Psalm 4:8
Psalm 31:21-22
Psalm 46
Psalm 56:3
Psalm 73:28
Psalm 91
Psalm 121:7-8
Proverbs 12:25
Isaiah 26:3
Isaiah 41:10
Jeremiah 17:14
Jeremiah 29:11-13
Matthew 11:28
Mark 4:38-40
John 14:1
John 14:27
John 16:33
Romans 8:38-39
1 Corinthians 15:50-58
1 Corinthians 16:13-14
2 Corinthians 1:10
Ephesians 6:12
Philippians 4:6-7
2 Timothy 1:7
Hebrews 4:16
James 4:8
1 Peter 5:6-7
1 John 5:14