Matthew Olson, Family3 Ministries Director

Matt began his ministry at St. John in 2011 as Director of Youth Ministries.  As of November 2017 he has taken on the role of Director of Family3 Ministries where the further development of children, youth, young adult, marriage and parenting ministries are underway.
Along with his wife, Shantell, Matt received a Bachelor of Arts degree in Biblical Studies with a Youth & Family Ministry major from the Lutheran Bible Institute of Seattle.
Matt, Shantell and their three daughters have shared their family adventures and faith journeys' within the following communities in which he has served:   Yankton, SD; Detroit Lakes, MN and Box Hill (Melbourne) Australia.
Athletics, choir, band and photography were his growing up pursuits with cross-country and track being where he excelled (a North Dakota State Champion in both fields & nearly a Collegiate (NAIA) All-American as a freshman in cross-country.)  However, the call to full time professional ministry changed his ambitions.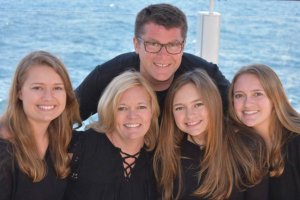 The adventure of Marriage and Parenting has kept Matthew and Shantell both running in new ways.  With his oldest daughter, Paige, now a nurse, his second, Sydney, soon to be a dental hygenist and his youngest, Mya, headed to college very soon, the understanding that "time flies" is all too evident.  Both gratitude and guilt wrestle within his psyche when reflecting on memories where joyous times are cherished and missed ones, as well as messed up ones, still are being healed.
He believes that seizing the day for building deeper relationships with one's spouse and children happens best when one seeks to solidify and grow in a relationship with Jesus who is both our example and source of "abundant life."
Matthew's Confirmation / Life verse is:
"Let us run with determination the race that lies before us, keeping our eyes fixed on Jesus, the author and perfector of our faith."  (Hebrews 12:1b-2a)
Matt can be reached by calling the church office at 830-249-3651 or by email at: [email protected]