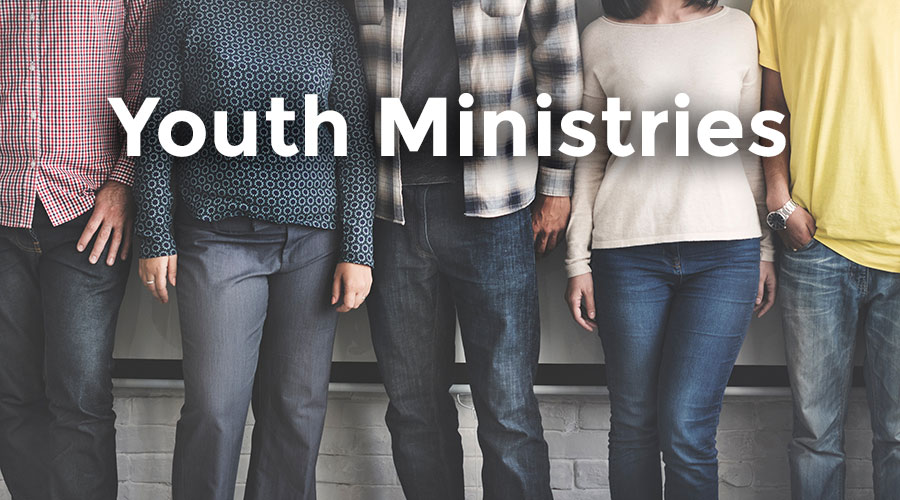 Our Mission:
Our hope for all young people connected with St. John is that they will be nurtured in strength. Our youth should be fluent in knowing the Word of God and even more fluent in living the Word of God. Thus, they will be equipped for battle against the evil one.
We seek to equip our youth and their families:
through weekly gatherings (especially Sunday mornings and Wednesday evenings) and through special events such as service projects, trips, camps,and retreats. Through these opportunities, this abundant life will be tasted and experienced.
by nurturing meaningful relationships with parents, peers, caring adults, and other intergenerational connections to help deepen the understanding of God and His love and to foster mentoring of what it means to follow Jesus.
by encouraging questions and sharing struggles and doubts. All thoughts and feelings are welcome here because only in the realness of life can the cross of Christ be truly understood and felt.
by helping young people to discover their gifts and talents, so that they can know that they truly are vital members of the Body of Christ and are called to help bring about His Kingdom.
by inviting, challenging and equipping young people to be disciples of Jesus.
Our s3Heep need Shepherds!
Servant-Leaders who
Help,
Encourage,
Pray,
Heal,
Equip
Remind,
Drive and
Share
If you are one of these people…please join us in our mission! We can always use volunteers to help our youth program!
The Apostle John writes, "I write to you, young people, because you are strong and the word of God abides in you, and you have overcome the evil one."
– I John 2:14c
Sundays in April:
April's Feeding Times will consist of preparing for Youth Led worship services
(April 22, Confirmation & May 20, Sr. Recognition Sunday)
There will be NO classes on Easter, but Confirmands note that you are to write out your Confirmation Promises which include your statement of faith by the following Sunday, April 8th.
Starting April 29th will be a series of 4 Sundays where students may choose
'Smorgasbord style'.
Middle and Senior High Youth:
APRIL 1: EASTER: No Feeding Time Classes
APRIL 8: Youth Led Worship Rehearsal
APRIL 15: Youth Led Worship Rehearsal
APRIL 22: Affirmation of Baptism Service
APRIL 29: Start of Spring Feeding Time Classes – 'Spring Smorgasbord' (SEE TOPICS BELOW)
Confirmands affirming their Baptism:
Confirmation Journey for Mentors and Youth • Historic Chapel
APRIL 1: EASTER: Route 8 Confirmation Promises (Done with Mentors)
APRIL 8: Promises Shared & Work on Confirmation Worship Service
APRIL 15: Affirmation of Baptism Service Rehearsal
APRIL 22: Affirmation of Baptism / Confirmation Sunday
APRIL 29: Start of Spring Feeding Time Classes – 'Spring Smorgasbord' (SEE TOPICS BELOW)
'Spring Smorgasbord' Topics (starting on April 29th):
Incredible Faith – Summer Feeding Time opening preparations (Meets at the Shepherd House)
Finding God at the Movies (Education Wing)
Lego & Let God – Vacation Bible School Preparations (Historic Chapel)
Wednesdays in April:
Fellowship at 4:30pm; following meal in Luther Hall
WEDNESDAY SCHEDULE:
APRIL 4: Youth Led Worship Preparation
APRIL 11: Youth Led Worship Preparation
APRIL 18: Youth Led Worship Preparation
APRIL 25: End of Year Celebration (Watch for more information.)
WE NEED YOU to PARTICIPATE and HELP lead in our Community Outreach Missions:
Take It 2 the Streets
Saturday, April 7th, 5pm–9pm
Join us to feed the homeless in San Antonio
Team Life Camp
April 13th-15th
Have your weekend retreat paid for at Camp Chrysalis and learn how to be a Right to Life warrior. Talk with Matt or Vernell Johnson (210) 827-2456
Wild Game Dinner
Saturday, April 28th
Our church needs you to help carry-out this massive fundraiser for area charities. Get involved!
MARK YOUR CALENDARS!
Teen Right to Life Camp: Camp Chrysalis, April 13-15 : Your way is paid for anyone aged 14-18 who is willing to have a great time at Camp Chrysalis while learning how to defend or stick up for life in our culture. Enjoy a weekend of campfires, new friends, and discussions with like-minded Pro-Life peers!
You can register at TexasRightToLife.com. Questions can be answered by calling 713-782-LIFE, by emailing: StudentCentral@TexasRightToLife.com or by talking to Matt Olson or Vernell Johnson.
Affirmation of Baptism Celebration (a.k.a. Confirmation): Weekend of April 21-22
Senior Recognition Sunday: May 20
Summer Bible Camp
Senior HIgh Camp Eagle Group Adventure Camp: June 17–22, 2018
Reserve your spot; they are limited and they fill quickly! Do I need to say more? You know how the Spirit works at Camp Eagle, don't let the evil one trick you into not going. Visit: https://campeagle.secure.force.com/events20#/registration/events/setup/0060Z00000jD07uQAC or let Matt know you want to go and he can email you the link to the registration site.
Middle High (completing 5th, 6th & 7th grades) Camp Ebert Horse Ranch:
July 8-13, 2018
This unique camping / ranching experience will not be forgotten. Ride and care for horses, try your skill on a High Ropes course. Make great friendships, bask in the beauty of God's Hill
Country and grow in Him! REGISTER ONLINE AT: http://crosstrails.org/summer-camp/register. REGISTRATION MUST BE COMPLETED BY FRIDAY, FEBRUARY 23RD.
The youth at St. John participate in many fun activities throughout the year.  View some photos from this summer's Camp Eagle Retreat by clicking on the photo!
View Photo Gallery
Key Verses:
Jesus explains, "The thief comes only to steal and kill and destroy. I came that they may have life, and have it abundantly."  (John 10:10)