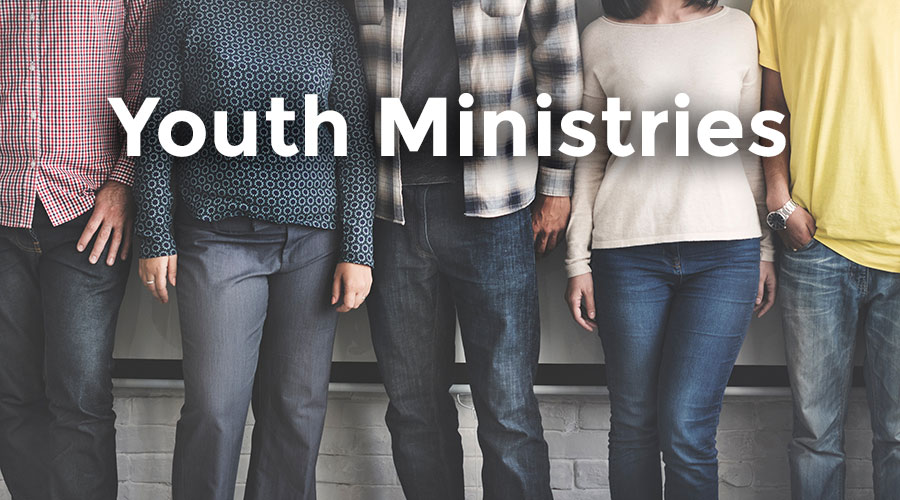 Our Mission:
Our hope for all young people connected with St. John is that they will be nurtured in strength. Our youth should be fluent in knowing the Word of God and even more fluent in living the Word of God. Thus, they will be equipped for battle against the evil one.
We seek to equip our youth and their families:
through weekly gatherings (especially Sunday mornings and Wednesday evenings) and through special events such as service projects, trips, camps,and retreats. Through these opportunities, this abundant life will be tasted and experienced.
by nurturing meaningful relationships with parents, peers, caring adults, and other intergenerational connections to help deepen the understanding of God and His love and to foster mentoring of what it means to follow Jesus.
by encouraging questions and sharing struggles and doubts. All thoughts and feelings are welcome here because only in the realness of life can the cross of Christ be truly understood and felt.
by helping young people to discover their gifts and talents, so that they can know that they truly are vital members of the Body of Christ and are called to help bring about His Kingdom.
by inviting, challenging and equipping young people to be disciples of Jesus.
Our s3Heep need Shepherds!
Servant-Leaders who
Help,
Encourage,
Pray,
Heal,
Equip
Remind,
Drive and
Share
If you are one of these people…please join us in our mission! We can always use volunteers to help our youth program!
The Apostle John writes, "I write to you, young people, because you are strong and the word of God abides in you, and you have overcome the evil one."
– I John 2:14c
FOOD AND FELLOWSHIP
8:45am -11am
Join us every Sunday morning in the Family Life Center for a light breakfast and great fellowship!
We are currently looking or volunteers to help with our Food and Fellowship on Sunday mornings and Wednesday evenings.
If you are interested in volunteering to host / help with Sunday Breakfasts and/or Wednesday Dinners, please sign up to host a meal or participate in a team to host a meal: https://www.signupgenius.com/go/30e0d4aada728a0f94-sunday. This includes preparation, serving, and clean up. Thank you in advance for your time and service.
Please contact Amy Townsend for questions and/or assistance: amyrtownsend@gmail.com
Sundays in October – 9:30-10:20am
High School Youth Room #213
Middle School Youth Room #212
OCTOBER 7: The Story: Ten Commandments
OCTOBER 14: The Story: Wilderness Wandering
OCTOBER 21: The Story: Joshua
OCTOBER 28: The Story: Judges
Wednesdays in October:

Cross-Generations
6pm Meal
6:30 p.m. Inter-generational learning and worship
time right in the Family Life Center.
ALL AGES wanted and needed!
OCTOBER 3: The Apostles' Creed: Jesus the Savior
OCTOBER 10: The Apostles' Creed: Jesus the Redeemer
OCTOBER 17: The Apostles' Creed: Jesus the Lord
OCTOBER 24: The Apostles' Creed: The Holy Spirit
OCTOBER 31: No Gathering due to All Hallows Eve.
Opportunities to be Christ's hands and feet in this world:
October 6th – 5pm: Taking It 2 The Streets
October 13th: Annual Picnic Set Up
2019 Summer Camp Dates for Camp Eagle:
High School: June 16-21, 2018 (for this year's 8th-12th graders)
Middle School: August 2-7, 2018 (for this year's 5th-7th graders)
$100 Deposit holds your spot! Contact Matt Olson for details!
Mercy Me Concert October 14th, 7:30pm
at the Freeman Coliseum
10 Tickets Still Available! 20 of us from St. John are already going…
Contact Matt Olson for a ticket. We will leave from church at 6pm.
Middle School Confirmation will be on Wednesday evenings, starting September 12th, as a part of our Cross-Generations Gatherings
If and when students cannot make this teaching time, there will be a take home book for parents and students to work through together.
Coming Wednesdays: starting September 12th
Cross-Generations: Our teaching focus…The Apostles Creed
We will gather each Wednesday with food, friendship, teaching, service and worship for all ages! Be a part of this Sacred Experiment!
6:00 p.m. Food & Fellowship in the Family Life Center
6:30 p.m. Cross-Generations begins!
7:30 p.m. Taking it home!
The youth at St. John participate in many fun activities throughout the year.  View some photos from this summer's Camp Eagle Retreat by clicking on the photo!
View Photo Gallery
Key Verses:
Jesus explains, "The thief comes only to steal and kill and destroy. I came that they may have life, and have it abundantly."  (John 10:10)