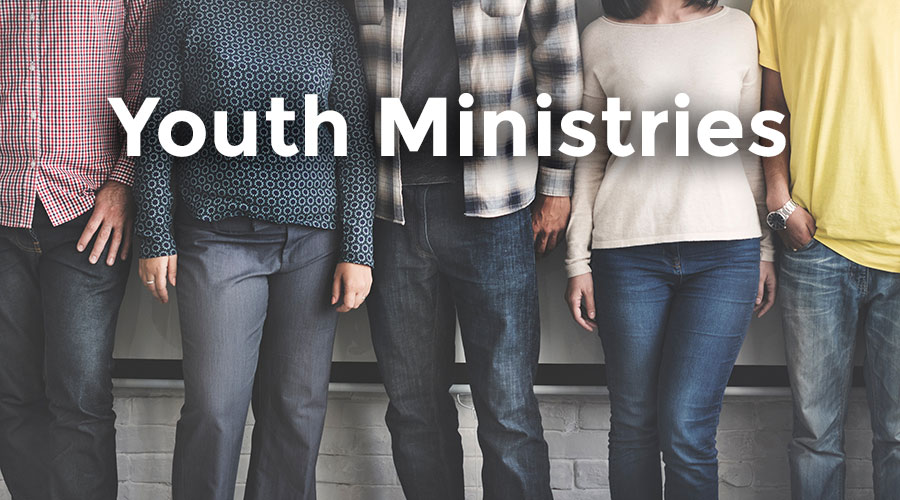 Our Mission:
Our hope for all young people connected with St. John is that they will be nurtured in strength. Our youth should be fluent in knowing the Word of God and even more fluent in living the Word of God. Thus, they will be equipped for battle against the evil one.
We seek to equip our youth and their families:
through weekly gatherings (especially Sunday mornings and Wednesday evenings) and through special events such as service projects, trips, camps,and retreats. Through these opportunities, this abundant life will be tasted and experienced.
by nurturing meaningful relationships with parents, peers, caring adults, and other intergenerational connections to help deepen the understanding of God and His love and to foster mentoring of what it means to follow Jesus.
by encouraging questions and sharing struggles and doubts. All thoughts and feelings are welcome here because only in the realness of life can the cross of Christ be truly understood and felt.
by helping young people to discover their gifts and talents, so that they can know that they truly are vital members of the Body of Christ and are called to help bring about His Kingdom.
by inviting, challenging and equipping young people to be disciples of Jesus.
Our s3Heep need Shepherds!
Servant-Leaders who
Help,
Encourage,
Pray,
Heal,
Equip
Remind,
Drive and
Share
If you are one of these people…please join us in our mission! We can always use volunteers to help our youth program!
The Apostle John writes, "I write to you, young people, because you are strong and the word of God abides in you, and you have overcome the evil one."
– I John 2:14c
Sundays in August – 9:30-10:20am – Room #213:
AUGUST 5: ALPHA #7 Spirit: Who is the Holy Spirit and what does He do?
AUGUST 12: ALPHA #10 New Life: How Can I make the Most of the Rest of My Life
AUGUST 19: ALPHA #11: Healing: Does God Heal Today?
AUGUST 26: ALPHA #12: Telling Others: How and Why Do I Tell Others?
Wednesdays in August:

YOUTH ALPHA is at 6pm with a meal in the Family Life Center. A YouTube presentation will begin at 6:45 pm in Room #118 followed by a time of discussion! See: https://alpha.org/alpha-youth-series/.  The evening will end by 8pm.
AUGUST 1: ALPHA #6 Bible: Why and How Do I Read the Bible?*
AUGUST 8: SPECIAL EVENT! JOIN US FOR THE SURPRISE!
AUGUST 15: ALPHA #10 New Life: How Can I make the Most of the Rest of My Life
AUGUST 22: ALPHA #11: Healing: Does God Heal Today?
AUGUST 29: ALPHA #12: Telling Others: How and Why Do I Tell Others?
UPCOMING EVENTS FOR HIGH SCHOOLERS:

24 HOUR YOUTH ALPHA RETREAT
Saturday, August 11th at Noon until Noon on Sunday, August 12th
DEADLINE TO REGISTER IS WEDNESDAY, AUGUST 8TH!
Mystery Trips throughout the day with overnight and conclusion here at St. John. Topics we will be covering:
#7 Spirit: Who Is the Holy Spirit and What Does He Do? #8 Fill: How Can I Be Filled with the Spirit? #9 Evil: How Can I resist Evil? #10 New Life: How Can I make the Most of the Rest of My Life?
For registration and more information contact Matt: matt@stjohnlutheran.com!
UPCOMING EVENTS FOR MIDDLE SCHOOLERS:

Join us as we build Faith and Fellowship for our incoming 6th – 8th graders
Please contact Marissa Klein 210-393-4653 or Gretchen Allen 713-851-2752 if you have questions or would like to help participate in organizing any of these events.
Coming Sundays starting September 9th:
The whole family. The whole Bible. The whole year.

The Story is coming to St. John. Our pastors will be preaching through the major stories of the Bible from beginning to end. Our children and youth will be diving deeper into those same stories in their Sunday morning classes. Adults will also have an opportunity to join one of several Sunday morning classes focusing on The Story. The entire church will be on the same page – literally – as we learn more about how our lives fit into God's big story of redemption. Stay tuned for much more information on this exciting journey!
Coming Wednesdays: starting September 12th
Cross-Generations: Our teaching focus…The Apostles Creed
We will gather each Wednesday with food, friendship, teaching, service and worship for all ages! Be a part of this Sacred Experiment!
6;00 p.m. Food & Fellowship in the Family Life Center
6:30 p.m. Cross-Generations begins!
7:30 p.m. Taking it home!
The youth at St. John participate in many fun activities throughout the year.  View some photos from this summer's Camp Eagle Retreat by clicking on the photo!
View Photo Gallery
Key Verses:
Jesus explains, "The thief comes only to steal and kill and destroy. I came that they may have life, and have it abundantly."  (John 10:10)