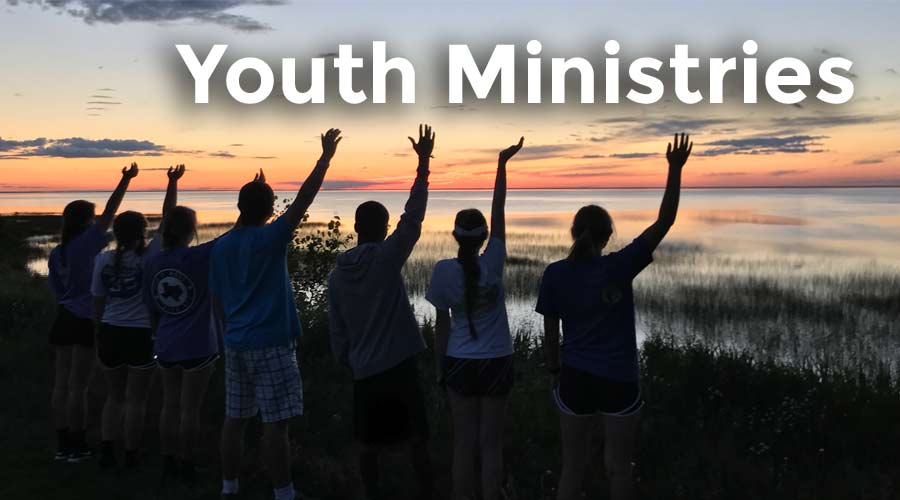 The Apostle John writes, "I write to you, young people, because you are strong and the word of God abides in you, and you have overcome the evil one."      – I John 2:14c
Jesus explains, "The thief comes only to steal and kill and destroy. I came that they may have life, and have it abundantly."   -John 10:10
Our Mission: "Know Jesus. Make Jesus Known."
Our Hope:
Our hope for all young people connected with St. John is that they will be nurtured in strength. Our youth should be fluent in knowing the Word of God and even more fluent in living the Word of God. Thus, they will be equipped for battle against the evil one.
We seek to equip our youth and their families:
through weekly gatherings (especially Sunday mornings and Wednesday evenings) and through special events such as service projects, trips, camps,and retreats. Through these opportunities, this abundant life will be tasted and experienced.
by nurturing meaningful relationships with parents, peers, caring adults, and other intergenerational connections to help deepen the understanding of God and His love and to foster mentoring of what it means to follow Jesus.
by encouraging questions and sharing struggles and doubts. All thoughts and feelings are welcome here because only in the realness of life can the cross of Christ be truly understood and felt.
by helping young people to discover their gifts and talents, so that they can know that they truly are vital members of the Body of Christ and are called to help bring about His Kingdom.
by inviting, challenging and equipping young people to be disciples of Jesus.
Our s3Heep need Shepherds!
Servant-Leaders who
Help,
Encourage,
Pray,
Heal,
Equip
Remind,
Drive and
Share
If you are one of these people…please join us in our mission! We can always use volunteers to help our youth program!
Join us at Cross Generations each Wednesday from 6pm – 7:30pm
Click the button below to see the Fall schedule of events!
Learn More
Wednesday evenings is also the time for Confirmation Instruction!

Click the button below to see the Confirmation schedule:
Learn More
Sunday Mornings for Middle School & High Schoolers at 9:30am and 10:45am
We call Middle School & High School Sunday morning gatherings "Feeding Time." It's partly because there is breakfast available for all, but mainly because we are to "Feed On," "God's Word" (everyday, but especially on our Sabbath day). Called to be students seeking and serving Him every day, everywhere passionately; we are His s3Heep and He leads us to green pastures to rest & feed. This is our hope for Sunday morning.
Quiet Times (personal reflection / mediation on Scripture & prayer) are essential nutrients for this journey in faith, so a 10 for 10 (as taught at Camp Eagle) will often be a part of this Feeding Time. Our hope is to instill the skill of daily personal prayer and Bible reading.
Other time will be devoted to discussions on various current topics, the sermon of the day or numerous other interests as well as plenty of encouragement and fellowship with one another.
Brad Allen & George Klein will be shepherding the 9:30am High School Feeding Time in room 213.
Michael Hoeppner is shepherding the 9:30am Middle School Feeding Time in room 212.
A "Shepherd" (yet to be determined by this printing) will lead a 10:45am class in room 212 for both Middle School & High School students.
Don't miss FEEDING TIME! Come and get it!
The youth at St. John participate in many fun activities throughout the year.  View some photos from this summer's Camp Eagle Retreat by clicking on the photo!
View Photo Gallery