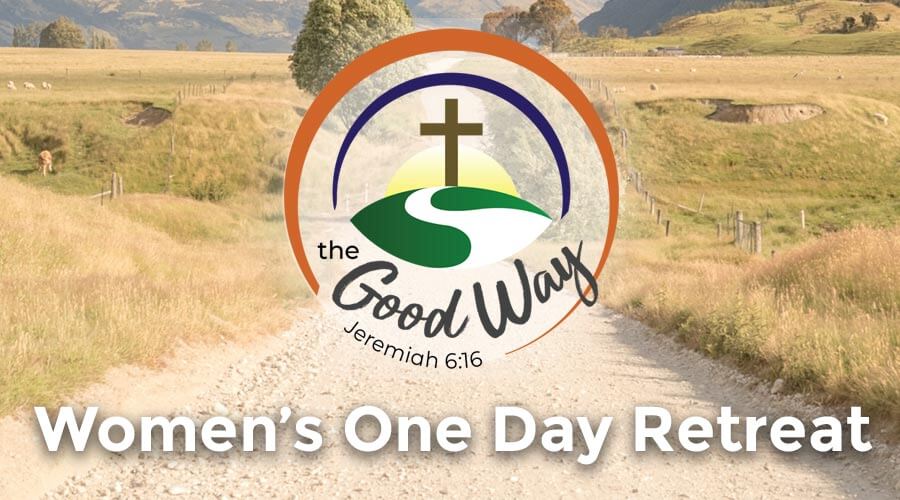 St. John Lutheran Church invites you to
THE GOOD WAY
Jeremiah 6:16
A One-Day Women's Retreat
January 28, 2023 • 9am – 3pm
at St. John Lutheran Church

Join us for the Women's One Day Retreat at St. John (315 Rosewood Ave., Boerne) on January 28, 2023 from 9am to 3pm.
In a confusing world, who can we trust to show us how to live "the good way"? While "the experts" continue to lead us astray, Jesus promises there is a "road that leads to life."  Join us as we learn to walk with God on both the Straight Path and the Narrow Road.
Come enjoy worship, refreshments, small groups, a delicious lunch, and inspiring messages.
Music will be provided by Alison Ritch. Messages by Michelle Waters. Closing Communion service will be led by Pastor Mariola Bergquist. Lunch will be catered by Hungry Horse. Refreshments, coffee, and childcare will be available.
Register today and bring your friends!
The cost for the event is $40.
If you are registering additional people who will be your guest(s) and aren't affiliated with St. John, the cost for each guest is $25.
Final deadline to register is January 15.
Refreshments and Lunch provided. Childcare available if requested during registration.
The Women's Retreat messages will also be LIVESTREAMED through St. John's YouTube page, and small group sessions will be available through Zoom.

There will be no cost to view the livestreamed event, but YOU MUST REGISTER! A link to  Zoom will be sent to all those who sign up – it will not be a public link, so register today.
For more information contact Michelle Waters at watersmichellejoy@gmail.com
Retreat Agenda:

9am Entrance and Registration
Coffee and Refreshments
9:15am Sanctuary
Welcome, Announcements, Prayer
Large Group Icebreaker/Game
Music
Session One: The Straight Path
10:20am Break/Coffee/Refreshments
10:30am Small Groups in Various Rooms
Icebreaker/Game
Table Discussions
11:45am Various Rooms
Lunch
12:30pm Sanctuary
Large Group Icebreaker/Game
12:45pm Sanctuary
Music
Session Two: The Narrow Road
1:30pm Small Groups in Various Rooms
Icebreaker/Game
Table Discussions
2:30pm-3pm Sanctuary
Closing Worship with Communion