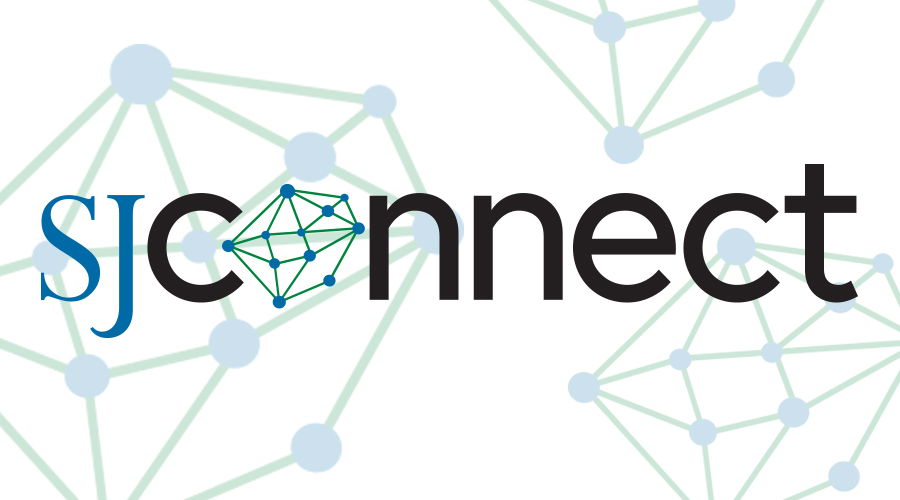 SJConnect:
The online connection for all members of St. John 
St. John has implemented an online program that will make it easy for all members of St. John to connect with fellow members of our family. It's like an online, pictorial directory with so many more benefits.
SJConnect will allow you to search and find other congregation members, as you would in previous paper church directories.  You will also be able to see groups that you are involved in and find new groups that interest you. With SJConnect, our staff will be able to notify volunteers of available positions and send reminders when they're scheduled to serve.  In the near future, SJConnect will help guide you to serving opportunities that fit your gifts, talents, and abilities and will be the place for you to make online pledges, donations and payments for events. And these are just a few of the benefits.
Members of our congregation are invited to sign up, create an account and begin using this online tool. Once you have set up your own account, it will be easy for you to become more connected and engaged with our church community from your computer or smartphone.
Step-by-step instructions for setting up your SJConnect account:
Instructions for setting up your SJConnect account:
Click the link that was sent to you in your email or that can be found on this page.

You will be directed to a login page
Below the login area, click the button for 'Request Account'.
If an email match is found in our system, we will immediately send you a login activation email with your new username and a link to set your password, so check your email! After activating your profile, you can log in to change your username and/or password. If no email match is found, a message will be sent to the administrator, who can send you an email with your username and activation link.
NOTE:
Each person must have their own email address, you cannot share one with another person in your household.
Click the new link in your email to be directed to your login page.
Enter and confirm your new password in the fields to the left.
Login using your username and password and you will be at your home page.
Please review your profile information and edit as necessary using the 'Edit Profile' button. You can update things such as your home address, preferred phone number, birthdate, anniversary, etc., as well as add a profile picture.
From your home screen, you can click the 'Actions' button to make other changes to your account:

The 'Privacy' tab allows you to decide who can see what information that you have included in your profile.
The 'Communications Preferences' section is where you can decide how to receive notifications.
You will see other options under the 'Actions' tab that we will begin utilizing in the near future. For example, the 'MyFit' area will allow you to indicate your spiritual gifts, abilities, passions and personality style, so that we know more about you and how you may want to serve in the future. We will let you know when we are ready for you to fill out this area.
And that's it! You have successfully set up your SJConnect account!
Whenever you log in to your account, you will be taken directly to your home screen. If you ever need to find your way back there while in the program, you can click the icon in the upper right corner of your screen.
If you need more instruction or help in setting up your account, please feel free to contact the church office at 830-249-3651 or [email protected].
Get the most out of SJConnect:
Update your contact information
Edit your phone number, email address, and other basic information. Edit it once and every group you belong to will have the correct information.

Upload your photo
Show us your best mug shot! Please include a photo of you (not your dog or your car). With so many people in the church, we like to put a face with a name.

Update your privacy settings
We value your privacy and treat your information with the utmost care. It's easy to select the information you want (and don't want) to share with others in the church.

Select your communication preferences
You have the option of choosing how people in your group communicate with you. Choose to receive text messages, a weekly summary of group activity and emails from other members in your groups.

Stay in touch
Logging in is a great way to stay in touch with your ministry team, the members of your small group, or even to send a message to your class leader. It's also a great way to find staff members or to get in touch with new friends you've made at church.

IN THE FUTURE:
Once we have completed transitioning all our systems and services to SJConnect, you will be able to: 1. Find groups to join, including classes, small groups and service teams  2. Serve in a way that works for you by browsing open positions and setting your availability  3. Fill out your MyFit profile indicating your your Spiritual Gifts, Passions, Abilities, and Personal Style, so we can help you find a way to serve that fits the way God has gifted you  4. Set up a recurring gift or donation  5. Subscribe to events on your phone.