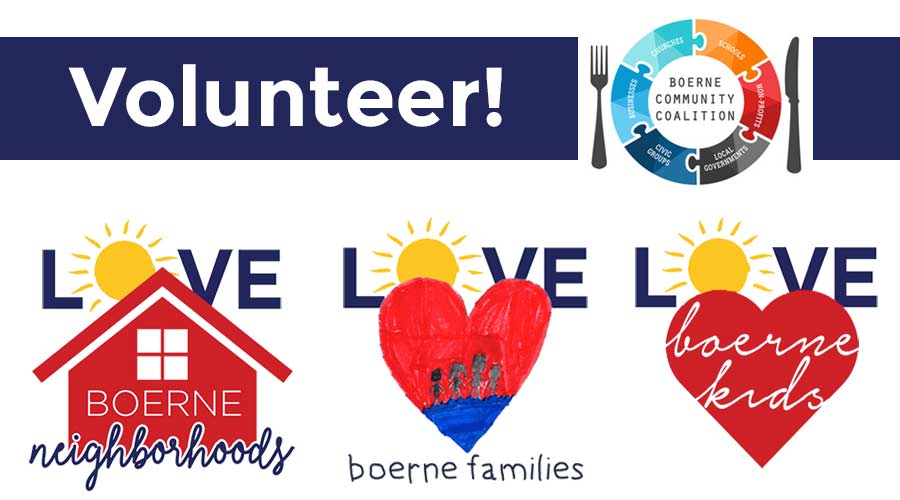 Boerne Community Coalition Opportunities to Serve:


Clean Up Day at Shady Rest
May 8, 8:30am – 12:30pm
LOVE Boerne Neighborhoods, a program of the Boerne Community Coalition, organizes a LOVE My Neighborhood Day each year.  These days include volunteers working alongside the homeowners for exterior cleanup and debris removal as well as coordinated activities and games for community children.
The Boerne Community Coalition will have "Love Boerne Neighborhoods" Cleanup day at Shady Rest on May 8.
We will meet in Shady Rest located on Cascade Caverns just east of Scenic Loop Road.  Turn onto Clear Sky from Cascade Caverns.  Go past the grassy area to the concrete slab for the Registration Table.
WORKDAY SCHEDULE – COME HUNGRY!
8:30 – 9:00 am – Registration, breakfast & fellowship, job assignments
9:00 – 12:00 pm – Work on community clean up
12:00 – 12:30 pm – Lunch & fellowship
Please join us for a special time of fellowship with community members and volunteers.  Breakfast Tacos and Coffee will be provided by St. Mark Presbyterian Church. Lunch will be provided by the EnYoy ladies group.
All volunteers must be 18 and have a completed "BCC Volunteer Liability Waiver" to participate.  The Waiver is attached in the sign up link and will be available at the clean up day as well. Please wear closed-toe shoes and bring heavy-duty work gloves.
If you are interested in participating in the cleanup day and can bring any of the needed tools, trucks, or trailers, please volunteer using the button below!
The St. John Outreach Committee is looking into replacing the basketball goals on a basketball court in the neighborhood. If you would like to donate money toward buying new basketball steel backboards, goals, and support brackets, or would like to help put them up, please contact George Klein at georgek@msaofsa.com or  210-269-4620.  We also may need someone with a welder and who is experienced at welding.